Sacristy
Underground Sacristy at the Cathedral in Koszalin 
location: Koszalin, Laskonogiego
project: 1998-1999, competition 1st prize
construction: 1999-2001
The Koszalin Cathedral is the town's most precious monument. Although it lacked sufficient space for an adequate sacristy, the architects refused to directly add onto the cathedral's finite form. The decision to add an underground expansion connected to the existing sacristy by a stairway provided a solution that would also eliminate any elements that may tarnish the monument's historical character.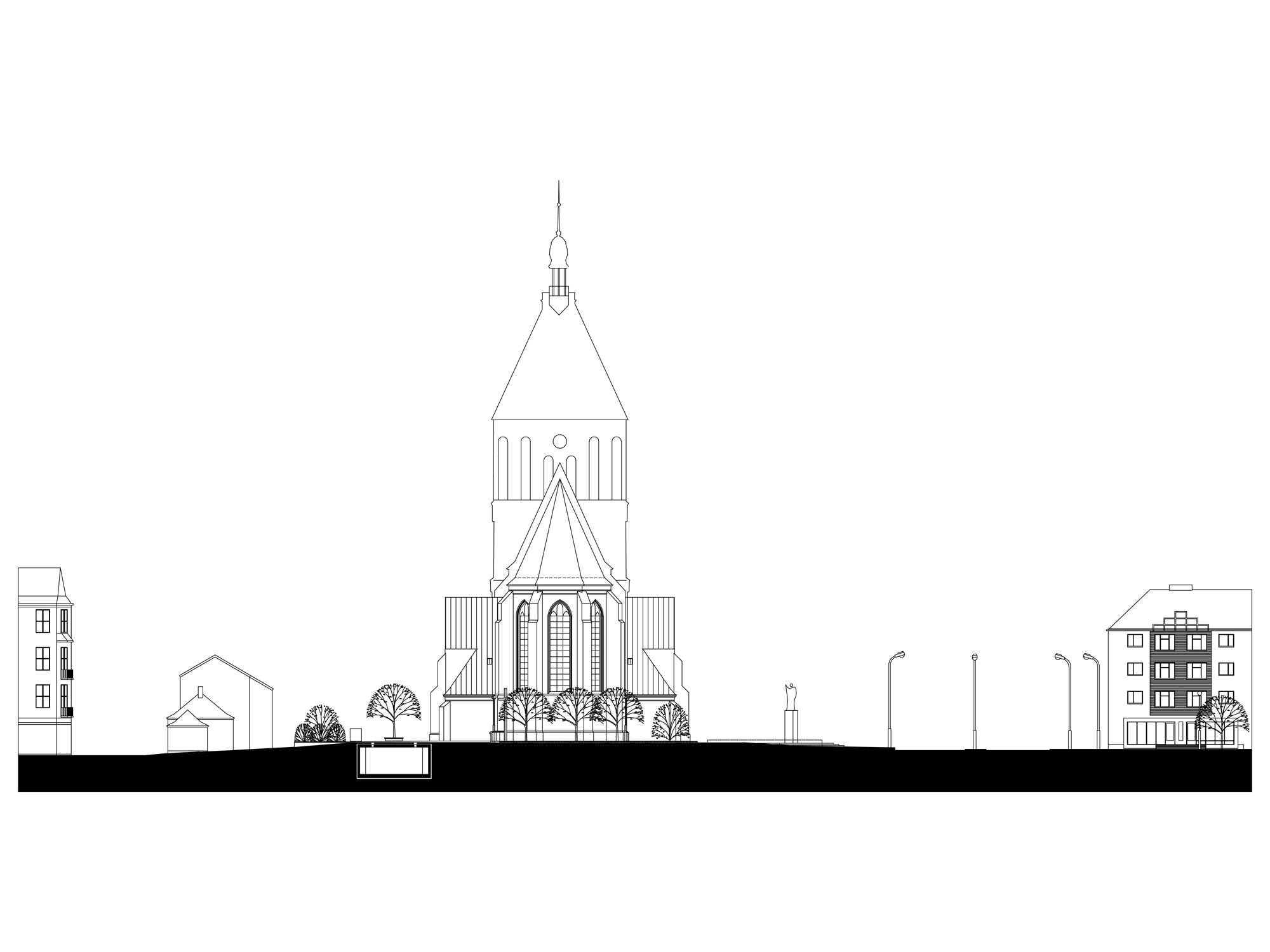 The concept of a somber, narrow corridor leading from an ascetic sacristy to the altar reinforces the symbolism of "per aspera ad astra, ad augusta per angst." The climate and atmosphere create a setting for the priests' moment of preparation in the sacristy and the meeting of sacrum at the Lord's Table. The underground structure is divided into three main zones. The first zone an extension of the stairs that leads to the adjacent wardrobe and restrooms that constitute the second zone. Here valuable liturgical vessels are kept behind armored glass. The third is the sacristy proper that contains the priests' wardrobes built into niches of the structural retaining walls. A lightwell tucked into a deep alcove illuminates a timber figure of the Virgin Mary, the patron saint of the parish. This small chapel is the place of prayers and concentration for the priests before the Holy Mass.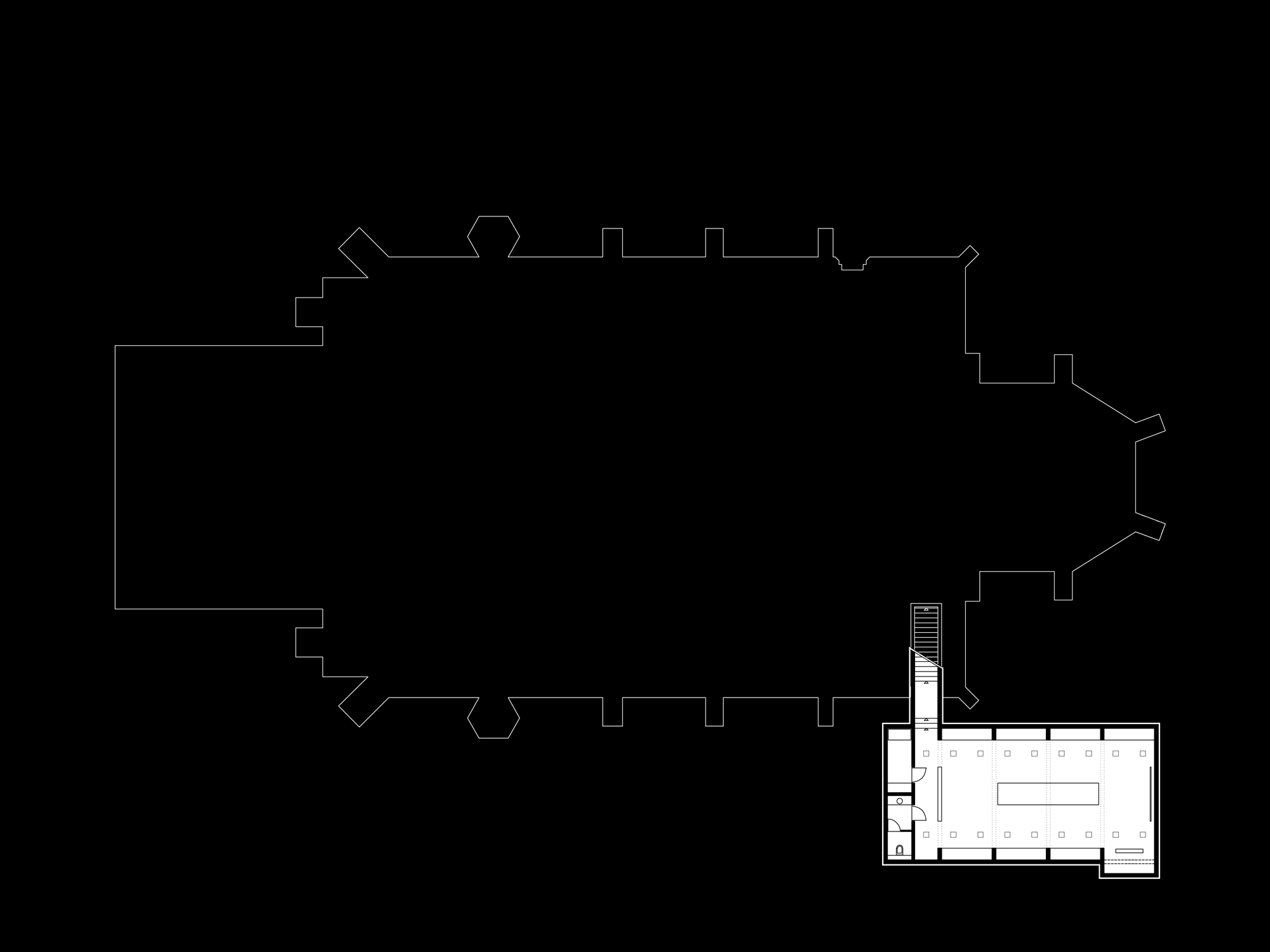 Concrete, wood, stone, and glass are the only materials used for the construction and ornamentation. Proportions and detailing are articulated consistently throughout the space. The construction module is carried into the layout of the stone floor tiles, wooden furnishings, and lighting fixtures. Light emitted by the frosted artificial lighting takes on the same quality as the soft light coming from the square skylights. This unity establishes the calm, humble, and reflective nature of the new sacristy. 
architect:
piotr smierzewski, freier architekt, karlsruhe
dariusz herman
collaboration:
Filip Gołębiowski
Net Floor Area: 113,0 m2
Gross Floor Area: 121,05 m2
Volume: 468,0 m3
Publications:  

1. Kontext a Typologie, KRUH, Texty o Architekture 2015-2018 
2. Polen Architektur, Ringturm, Wien 2008
3. Emerging Polish Architecture, World Architecture 05/2005
4. Emerging Identities-East, DAZ Berlin 2005
5. 321, Nowa Architektura w Japonii i Polsce, 2005
6. Nastrojowy realizm (podziemna zakrystia przy Katedrze), Architektura 3/2001
Exhibitions:  

1. Polish Architecture Today, Kraków 2017
2. Polen Architektur, Wien 2008
3. Emerging Identities-East, DAZ Berlin 2005
4. New Architecture in Poland and Japan, Krakow, Rome, Venice, 2004
more: smierzewski.com