KCIK
Krajowe Centrum Informatyki Kwantowej
location: Gdansk, Wita Stwosza St.
project: 2007, competition entry, 1st Prize
design: 2007-09
The main urban planning rule makes a reference to the original concept from 1970s. It adds the Central Square: a park on the plan of an elongated rectangle. This central green space has its begginings in a pond planned in the 1970s and stretches parallel to the streets of Wita Stwosza and Grunwaldzka. Its width maps out a distance between the existing facilities.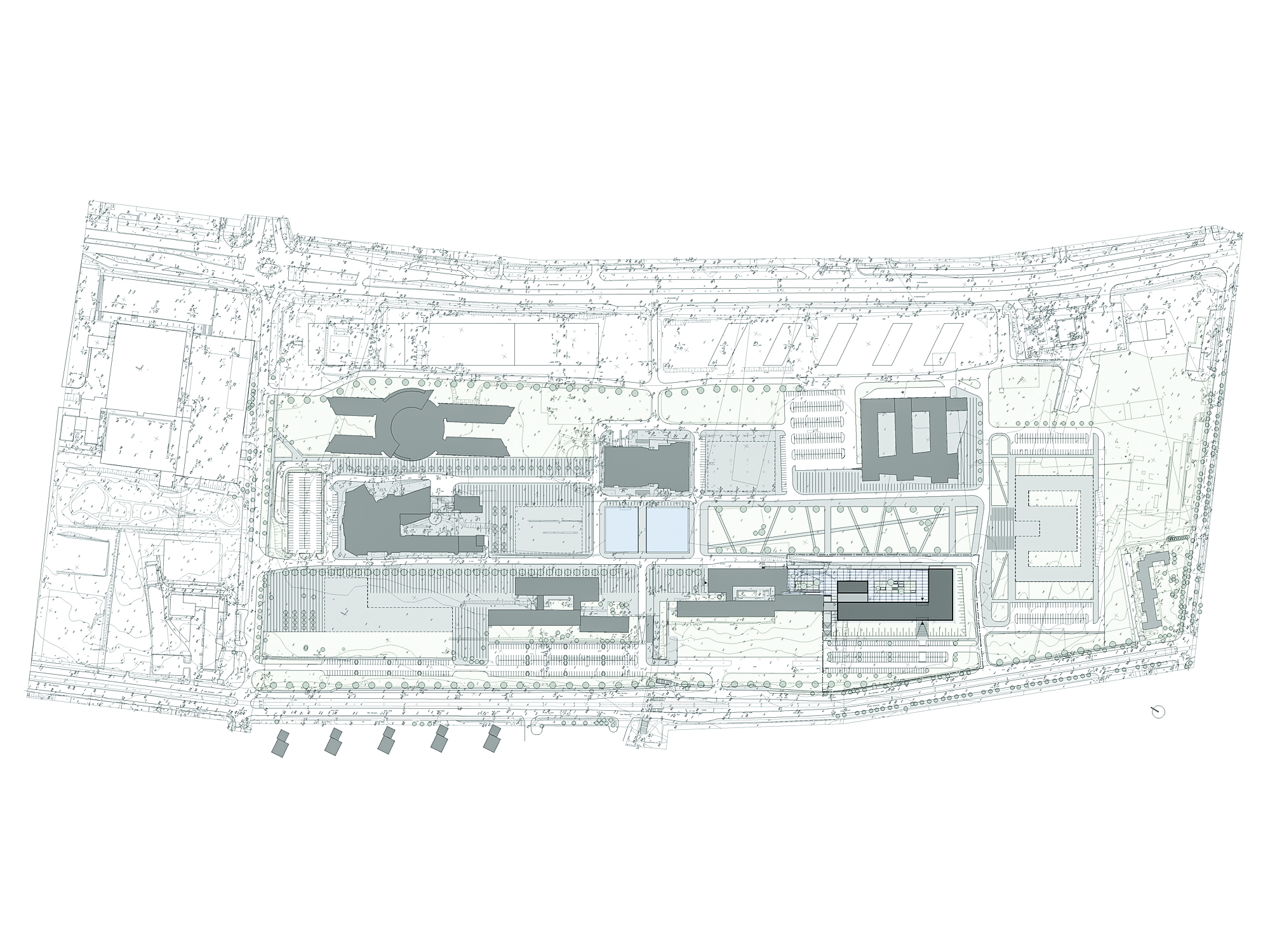 The land, which is adjacent to the main communications axis of the University, forms the Faculty Square. From there, the current building of the Faculty is available (the authors: architect W. Benedyk and architect S. Niewiadomski). There, the new computer science building was placed. This surfaced square, which was designed in an opposition to the Central Square, merges both facilities and maps out the space, which is an easy for identification, and which focuses the live of the Faculty. The laboratory part was placed in this square (similarly to the existing structure). The square closes the arm positioned perpendicularly to the longitudinal axis running through the buildings of the Faculty.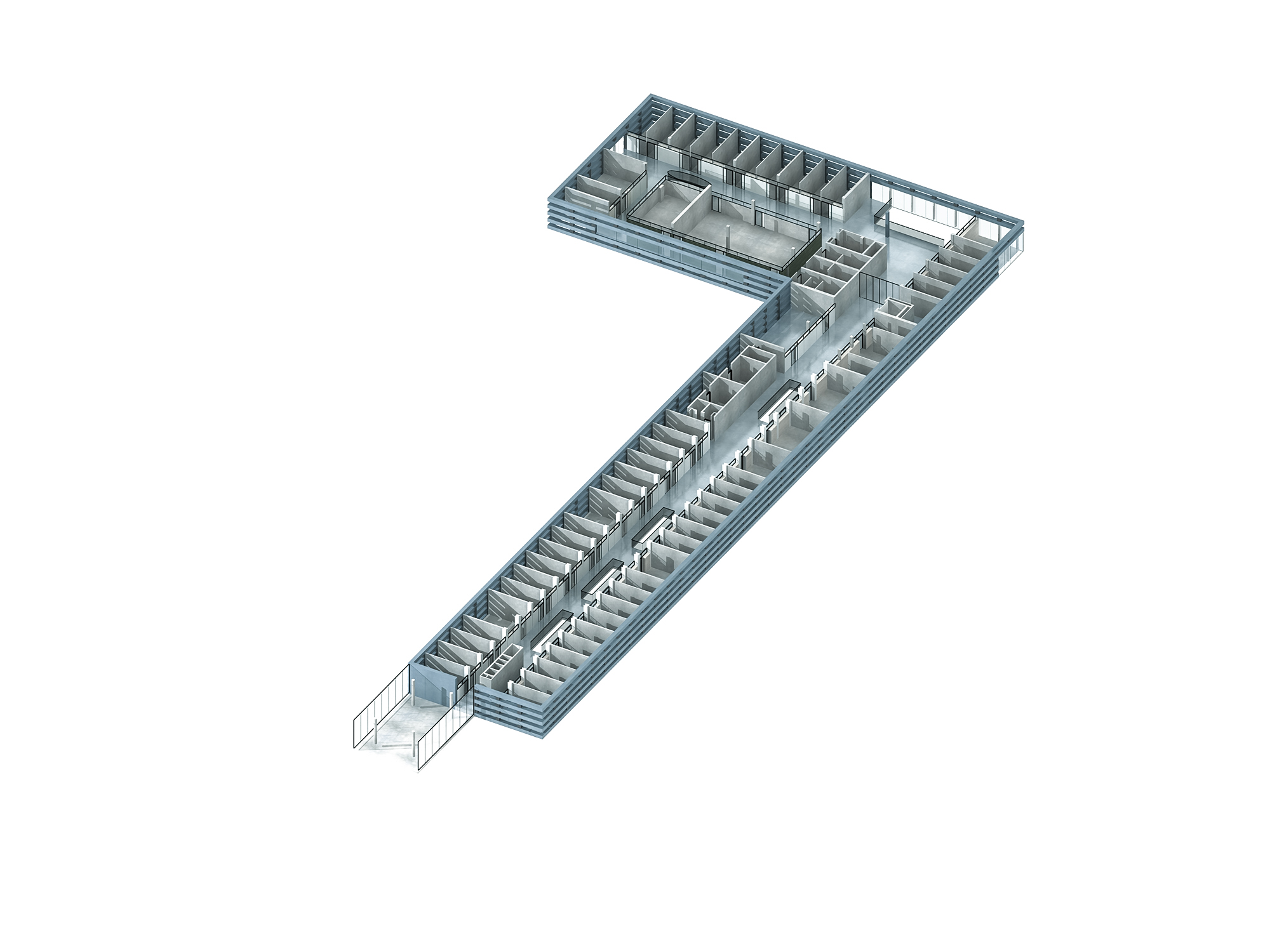 The difference of the levels of land allows one to create the natural boundaries of the Faculty Square, and gives an access to the facility from different levels: a different level from the side of the campus (the Faculty Square), and a different level from the side of the car parks that continue the already existing car park complex. The communications arrangement results from a logical continuation of the existing communications system. 
Three fundamental elements make up the block of the facility. The first one, which constitutes a typological continuation of the existing building, includes above of all teaching rooms. The second one, which is placed perpendicularly to the longitudinal axis of both buildings (closing the Faculty Square space), houses lecture halls and the Quantum Centre. The third element is the laboratories closed in an almost standalone block (connected with the main building only via the ground floor), which is intentionally distinguished in formal terms.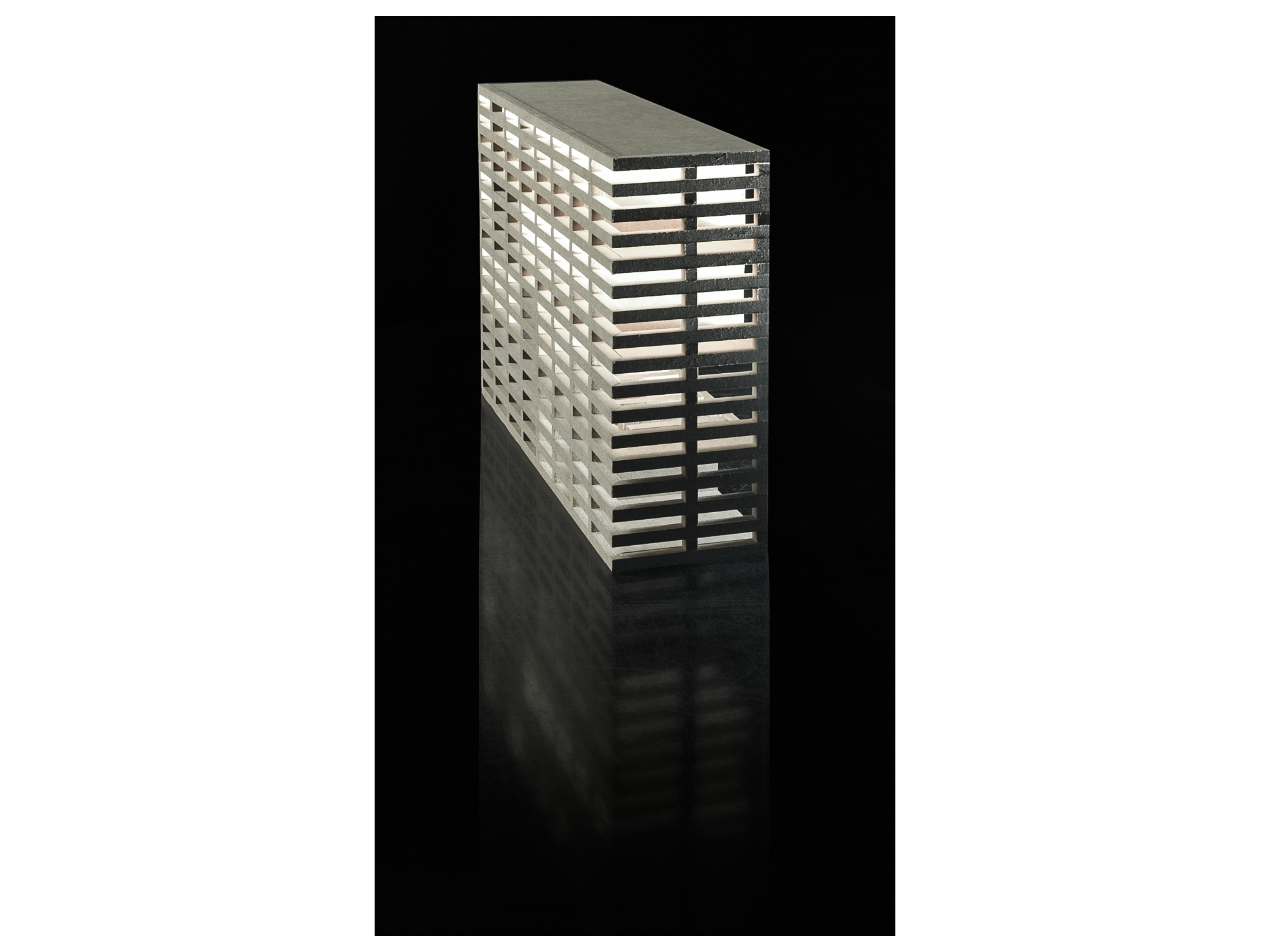 A two-storey entrance hall which joins not only the arms of building but also the levels of entrances leading to it, was designed between the two first elements. A lecture hall connected with a café adjoins this space. This three-storey hall is the continuation of the Faculty Square. The hall which precedes the Quantum Centre is situated above it. The view from it extends onto the whole Faculty Square. 
The facades of the Computer Science Faculty Building express the structure of the building accepted, including the functional structure. Regular, two-layered, prefabricated ferroconcrete and glass facades run around the building. The inside layer constitutes an element of the constructional system. Repeated window plots, which are withdrawn in the direction of the interior of building, are shaded against the sun in a natural manner. The laboratory section is faced with black laminated tempered glass.  
architect: 
HS99 Herman i Smierzewski, Koszalin
project team: 
rafal sobieraj, kuba florek, anita skalska, pawel skora, adam kulesza 
status: 
construction deleted 
Building Footprint: 3 689,5 m2 
Net Floor Area: 9 894,8 m2  
Gross Floor Area: 12 246,5 m2 
Volume: 53 703,25 m3  
more: smierzewski.com